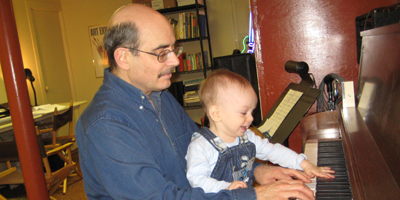 Sharing Love & Music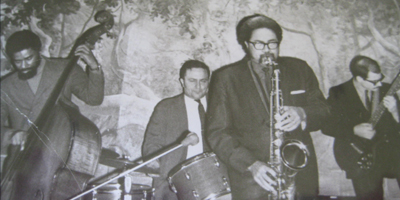 Coming to New York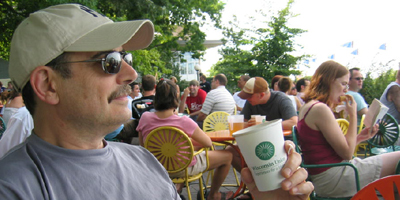 Music in Mind
What Music Means to Me
I didn't start playing music until I was about 15. My mom was into crafts, and she was trying to put together a violin from parts at a junkyard in Chicago. I spied this cute little banjo and the dealer sold it to us for a quarter. It had four strings like a ukelele, so I started strumming. I took to it right away. Fairly soon, I asked my parents for a guitar, and they bought me a Harmony flat-top. I took lessons at Lyon and Healy's downtown. I started picking and jamming with friends. I got a book of bebop and learned 'Groovin High'. Soon I got an electric Gibson and played with the guys in my high school. Although my first love was jazz, a lot of people were into blues, so I hung out at Big John's and started playing with blues groups up and down Wells Street. I played at jazz jam sessions whenever they let in people under 21. I learned how to play bass, too, and had fun entertaining kids at dances and parties.

After college, I got serious about music and dreamed about moving to New York where I could play with great jazz musicians. I wanted to live in the music world. Well, I did move here, I do live in the music world, and I still do play with the best musicians. But as of today, I still haven't been able to make a living at it. If anybody reading this would like to offer me gigs or creative opportunities, the contact page is only a click away - please reach out! But I did not wait for music to be financially rewarding. In the meantime, I retooled myself as a businessman. I went back to school, earned an MBA, and started a career in administration, finance, and computers. And, now that I'm retired from business, I can devote even more time to music. I pursue my passion seriously. I write tunes, perform at concerts, clubs, and celebrations, practice, and hang out wherever great music is happening. It feels good being creative and playing for people.
Why I Love Jazz
Jazz is a universal music whose message is freedom. The essence of the jazz experience is improvisation, grace under pressure, spontaneous invention, soulful expression, rhythmic flow, and group dynamics. Jazz has raw beauty, sophisticated simplicity, and swing. It enables artists, white or black, to come together and find their personal muse. Jazz music gives men and women the freedom to explore and express their individuality and touch the infinite dimensions of the human soul. It holds the promise of interracial empathy, justice, and ultimately, unity, gender equality, world peace, and understanding.
And More...
I'm originally from Chicago (played blues guitar and bass with The Paul Butterfield Blues Band and Mike Bloomfield, jazz guitar with John Klemmer and Hart McNee); Madison (lead guitar with The Fabulous Imitations and Sebastian Moon; played with Michael Moss, Ben Sidran, Roscoe Mitchell); currently live in Tenafly, New Jersey; I have played jazz, funk, Latin and fusion guitar with the groups of Cecil Payne, Harold Ousley, Chico Hamilton, Howard McGhee, (including McGhee's big band with George Coleman), Patato Valdez, Cliff Dukes, The Brecker Brothers, Booker Ervin, Tom Malone, (producer of my first album, "Further Adventures of Sebastian Moon" with pianist Jose Hunt, drummer Rudy Lawless, and saxman Joe Ferguson). I've played guitar and enhanced the groups of Ted Curson, Lonnie Smith, Milt Larkin, Bill Hardman, and many others.

I am a very rhythmic player, at home in a hard driving rhythm section. Many people have described my style as exciting and creative. I've jammed and played with some of the great drummers, including Art Blakey, Roy Haynes, Philly Joe Jones, Al Drears, George Brown and Charli Persip; pianists such as Harold Mayburn, Billy Taylor, Toshiko Akioshi, Joanne Brackeen, Richard Wyands, and Sir Roland Hanna. My bass mates have included Reggie Workman, the great Jimmy Garrett (musical director of the Supremes), Wilbur Bascomb (Aretha's bassman), Vishnu Wood, Paul Ramsey, Marcus MacLaurine, Stanley Banks and Mike Richmond.

Not content to stay in one place musically or mentally, I count versatility as one of my traits. For example, I've backed up the "Clown Prince of Bebop", Babs Gonzales; played 50's doowop rock 'n roll with the Crests; jammed with Rahsaan Roland Kirk; played at the Newport Jazz Festival with the U of Illinois big band. For a while, I could be found playing with funky jazz groups in the clubs of Harlem, and Latin groups in the Bronx after hours scene. I formed the Sounds of Space, a jazz/pop fusion group, and played the downtown free jazz loft scene. I organized a party and wedding band for upscale events that included veteran sidemen John Purcell, Wilbur Bascomb, Stanley Banks, Steve Butler and Jimmy Madison.
Switching over to piano, I have gotten deeply into harmonies and composition. I studied with Roland Hanna and Barry Harris. Playing keys, I created Zone, a fusion group that has performed at the Jersey City Jazz Festival, Sugar Loaf Performing Arts Center, Westbeth Music Festival, and numerous gigs and concerts around New York. I have stepped forward as a composer with several albums to my credit, which feature original compositions. Some tracks are available on music streaming sites and iTunes.